ATEX 94/9/EC Directive
Scope of the directive:
This directive is adopted by the European Union (EU) to facilitate free trade in the EU by aligning the technical and legal requirements in the Member States for products intended for use in potentially explosive atmospheres.
The Directive covers equipment and protective systems, which may be used in areas endangered by potentially explosive atmospheres created by the presence of flammable gases, vapours, mists or dusts. The Directive covers both electrical and mechanical equipment.
The directive covers harmonisation of requirments as well as conformity assessment procedures.
---
Differences between the old and new directives :
Only one directive for minning equipment and other places liable to be endangered by explosive atmospheres.
The directive indicate safety requirements for equipment intended for use in explosive environment created by the presence of dusts and safety requirements for non-electrical apparatus intended for use in explosive atmospheres.
It brings the "CE" marking for equipment and protective systems, which may be used in explosive atmospheres
It takes the place of national regulations for electrical apparatus
This new directive has a larger scope than domestic standards.
More information on old and new approaches on the EEC website, ATEX page
---
What is a potentially explosive atmosphere?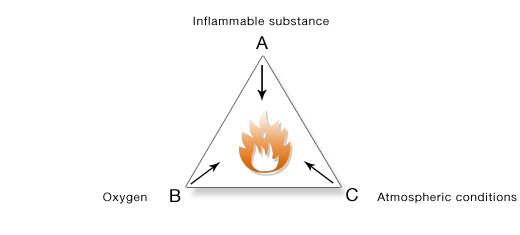 A explosive atmosphere is defined as a mixture of:
An inflammable substance (dust, gas, mists or dusts) (A)
The atmospheric oxygen always present (B)
Under atmospheric conditions, in which, after ignition has occurred (C), combustion spreads to the entire unburned mixture (in the case of fibers, the dust may not completely burned after combustion).
A Potentially explosive atmosphere is an atmosphere which could become explosive due to local and operational condition.
---
Directive implementation :
Before July 1st, 2003 (enforcement date)
Manufacturers have the choice to sale and/or to use products designed
in compliance with the 94/9/CE directive
in compliance with the national regulations in force for electrical equipment used in explosive atmospere.
From July 1st, 2003 :
Manufacturer: All products placed on the market have to comply with the 94/9/CEdirective.
User: The user's responsibility concerns a direct use of products depending on areas he has defined and thus depending on risks that might occur. The installation must be in conformity with the European directives. All products used will have to comply with the 94/9/CE directive. In case of defects, installed products which can not be repaired must be replaced by products in conformity with the 94/9/CE directive.